>I admit that I have a seemingly insatiable sweet tooth, so I can't say "NO" to desserts! From cakes, candies, tong sui, to ice cream, nyonya kuih etc……I love them ALL!
If you are a dessert lover like me, there is good news!! Authentic Hong Kong desserts ~ Lucky Dessert (香港发记甜品) from Hong Kong has spread their wings to Malaysia! With 9 outlets at Hong Kong, the 10th is at Sunway Giza!

The wide selection of dessert really made me spoilt for choice. With concept of healthy dessert where fruits are the main ingredient, I wanna try every item in the menu!

Mango Roll 芒果糯米卷 (RM 12.00)
Mango cuts enveloped in glutinous rice roll & sprinkled with grated coconut. Love the chewy texture of the glutinous rice~

Mango Wrapz 芒果班戈 (RM 10.00)
Diced mango & smooth whipped cream wrapped with freshly made "melt in your mouth" pancake skin.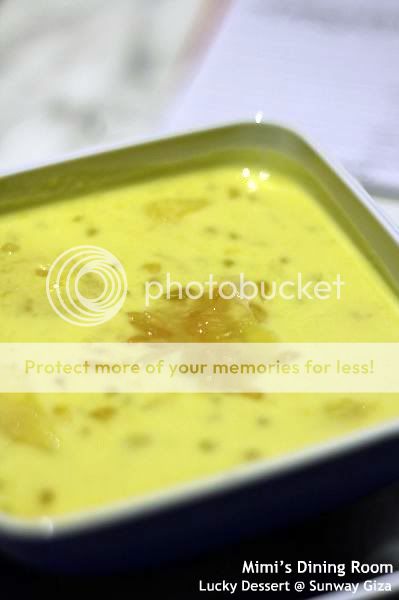 Trinity Mango Delight 招牌杨枝甘露 (RM 11.00)
One of the signature Hong Kong dessert, concoction of mango puree, pomelo bits & sago.

Trinity Durian Delight 榴莲飘香 (RM 11.00)
It might look same with the Trinity Mango Delight but the smell emitted told us it's different! Big chunk of durian flesh was used instead of mango. Durian fans definitely can't miss this!

Paradise Herb Italian Jell-O (RM 13)
Italian Jell-O? What is that? Actually it named after the long strands of herb jelly (cincau) made to resemble spaghetti, creative~~ But the milky broth was a bit bland.

Durian Krisp 焗榴莲酥皮卷 (RM 15.00)
Layers of thin pastry filled with warn durian topped with icing sugar. Try biting into the "melt in your mouth" pastry skin + the pungent durian flesh… It's simply irresistible~~

Lucky Purple Rice 金粟紫米露(RM 8.00)
This thick & creamy dessert is made from black glutinous rice & sweet corn. It's my least favorite that night as it's too heavy for me
Now you now where to satisfy your craving for authentic Hong Kong dessert? \(*o*)/
Lucky Dessert (發記甜品)
C-11-G, Sunway Giza 2, Jalan PJU 5/14,
Kota Damansara,
47810 Petaling Jaya, Selangor Darul Ehsan.
Tel: +603 6148 3798
Website: http://www.luckydessert.com
Facebook Page: Lucky Dessert