Mei Six Hin Restaurant
The advantage of eating with groups of friend is we can order more variety of dishes BUT there is also a risk that we will "over order" >.< Food ordered is more than what our stomach can handle! What make us "lost control"? Let's the photo do the talking, then you will know~~

蟹皇翅~ King of Shark Fin Soup
People that know me well understand that I'm not taking any shark fin but according to my friend, the soup was thick, flavorful from the supreme soup base & have lots chunky bites crab meat.

黄酒蒸啦啦 ~ Yellow Wine Steamed Clams
This definitely not the Shiong Tong Lala (上汤啦啦) that we normally had. The homemade yellow wine was full bodied, strong & exudes a charming fragrance when it slightly boiling from the burning candle beneath. Some might find it too overwhelming but according to the boss most of the restaurants out there are using the diluted version yellow wine.

椒盐琵琶虾 ~Salt Pepper Pei Pa Prawns
These crustaceans have really hard shell but the flesh inside was succulent & bouncy! Cooked with salt pepper, moreish until I licked the shell clean 😛

椰子虾~ Coconut Curry Prawn

Presented in an aesthetically-pleasant manner in a coconut. Fresh & sizable prawns doused in a creamy & aromatic curry gravy.

泰式猪手~ Thai Style Pork Knuckle

Lovely crackly skin sheathing tender & succulent meat. I can resist, can you?

Refreshing Thai style salad served along with the pork knuckle to wash off the caloric-laden horror =.="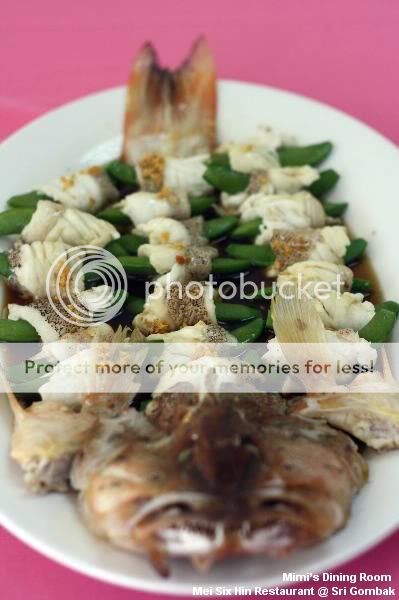 清蒸石斑卷~ Steamed Garoupa Rolls

Crunchy sweet pea rolled with fish fillet & steamed with supreme soy sauce. I enjoyed immensely the sweetness from both the sweet peas & the fish fillets 🙂

两味烤鸡~ 2 Flavors Roasted Chicken

2 flavors = Normal Roasted Chicken & Thai Style Roasted Chicken
The chicken was OK but did not register in my mind after the initial bites.

Braised Shark Lips
Can't really figure out what is this when it served on our table. My foodie friend explain to me that it was a shark lips! Wow, what a rare & novelty ingredient (at least for me)! Wonder how it tasted like? Gelatinous & slightly chewy, good to build collagen I guess, so I have a few helping of this 😛

笑口骨 ~ Smiling Ribs
The presentation of this dish was not appetizing or tempting at all but don't judge a book by its cover.The pork ribs was fork tender while the blackish thick gravy was savory with unique flavors which the boss not willing to reveal the secret ingredients@.@

Stir Fried Asparagus
We need greens to balance out the meal too huh…
I personally love this with fresh lily bulbs, pine nuts & macadamia nuts. I think I can finish the whole plate by myself 😛

招牌豆腐 ~ Homemade Beancurd with Enoki Mushroom

咸蛋螃蟹 ~ Salted Egg York Crab

Thing will never goes wrong if something is cooked with salted egg, right? The meaty crabs were coated evenly with powdery & lip-smacking salted egg york. Definitely a finger licking good dish for all of us *grin*

See, the crabs is waving to me!! *eat me eat me* ^_____^
Mei Six Hin Restaurant
G-62, Jalan Prima SG 3/1
Prima Sri Gombak, 68100, Selangor.

Tel: Steven 012-359 3109 / Winnie 017-279 9927
~~~~~~~~~~~~~~~~~~~~~~~~~~~~~~~~~~~~~~
May ChiXuan Restaurant
No. 21-1, Jalan PJU 8/5F
Damansara Perdana.
Petaling Jaya
Tel: 03-77272602