>Wendy's
>Nowadays all fast food chain are having their lunch promotion eg: McDonald's, KFC, Pizza Hut, Of course Wendy's joined the bandwagon..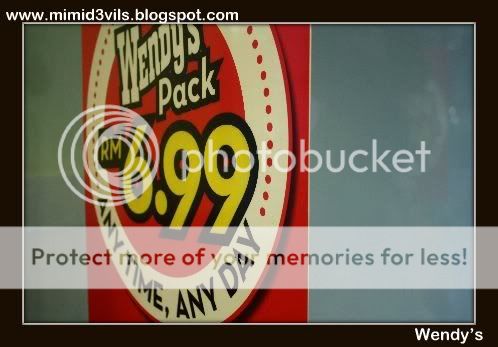 Wendy's Pack at RM 6.99 at Any Time, Any Day!!! Attractive huh~~

Available choices..

Since hubby don't eat beef so he choosed a set which consists of Baked Potato with sour cream + chives topping, 3 pcs nuggets & soft drinks.

3 miserable looking nuggets but taste juicy & not oily at all, 3pcs definitely not enough!!! ^.^

Huge serving of Baked Potato with sour cream & chives topping. The sour cream compliment s the tasteless potato well & I believe it will taste better if butter is added ~~ 😛
(there are 3 choices of sauces for the Potato but I couldn't remember the other two)

My choice of set : Cheese Burger~~

With standard ingredient such as cheese, pickled cucumber and lots of ketchup~~

Special square meat patty , extremely thin until I can't taste it when I bite on it!!! =.=" Perhaps their ala-carte serving will be thicker~~
Wendy's
Times Square
Sunway Pyramid
Jaya One
IOI Mall
Jalan Sultan Ismail