Marche Movenpick
I was thinking quite long before I posted this up because I lost my receipt. I totally can't remember the name & the taste of ALL the food that I tried at Marche Movenpick, The Curve, not to mention the prices >.< So you guys please tolerant the minimal description of the food, just purely enjoy the photo , OK? ^___^
PS: I had this on November 2010 ~~ O.O"
Marche (pronouced as Mar-shay), stands for "market" French. The interior is akin to a market environment where various food stations are set up namely pasta, rosti, pizza, grill, bakery, salad, soups, fresh juice, bakery, dessert & bar.

Every customer is given a Marche Guest Card also known as "Passport" when dine in here. Please keep this card carefully, if u lost it, you have to pay RM 200.00 as penalty.
Why we need this card?


The chef will stamp on the card when you order food at the food station, once you check out the card will be collected back & calculate how much you spent.

We were seated at La Poterie area which reminiscent the pottery-making cottage.

Beverages

Chicken Soup for our pityShell who was sick on that day. Taste bland & she couldn't finish it.

Plain Rosti
A Swiss delicacy made from grated potatoes.

Rosti + Cheese

Rosti + Smoke Salmon
Rosti was a quite popular food at Marche, so expected the long queue 🙁

Salmon Crepe

Vegetarian Crepe

Grilled Fish

Mashed Potato

Lamb Sausage & Corn
I like the lamb sausage, very juicy & burst with dense lamb taste…yum yum~~

Fruits
Desserts


Fried Sweet Potatoes
The batter was a tad too thick & the sweet potatoes were not sweet at all =.="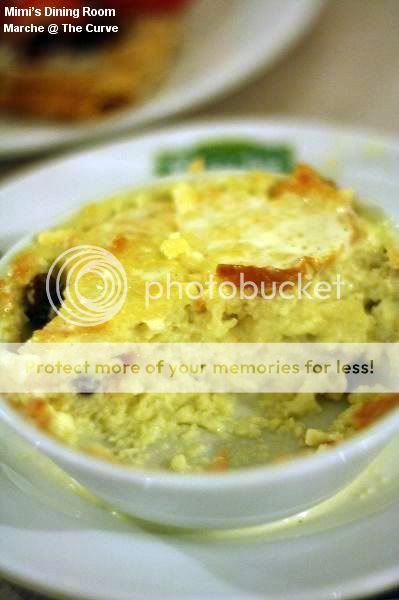 Bread Pudding

Crepe with Chocolate Chips & Strawberries
I vaguely remember this was nice too~~ 😛 It can't go wrong with strawberry & chocolate, right?

Pie

Fruits Cake
Messy presentation @.@
Verdict: I like the concept here where the food is cook-to-order BUT the prices are a bit steep. I would however give this place a miss and wouldn't go back there again anytime soon.
Marche Movenpick
Lot G87, Ground Floor
The Curve
Mutiara Damansara
47800 Petaling Jaya
Selangor D.E.
Tel: 03-77278461

Website: www.marche-malaysia.com